Tradition et prévention - EN
Tradition and Prevention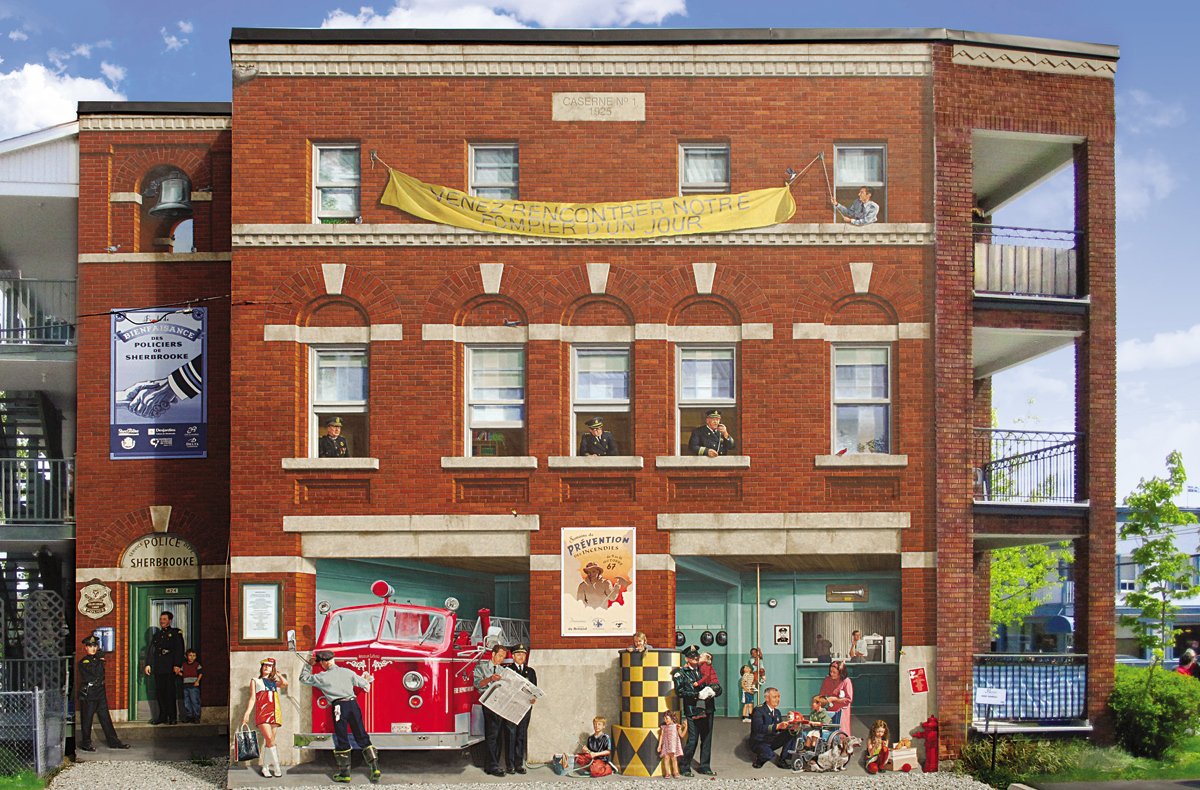 The mural Tradition and Prevention pays tribute to Sherbrooke area firefighters and police officers who have been protecting the public for more than a century and a half. The mural symbolically depicts the former central station at 424 Marquette St., which stood from 1925–1989. After it was demolished, the site became home to the Éva-Senécal library.
On this lovely summer day in 1967, the central station is holding an open-house for the annual "Firefighter for a Day" event. The year 1967 was marked by many sensational events, including Expo 67, the release of the Beatles' Sgt. Pepper's Lonely Hearts Club Band album, and many others. It also saw retirement of Percy Donahue, director of firefighting services, after 55 years of loyal service.
Dimensions :
39 by 34 feet
Year created :
2007
the mural in more detail ...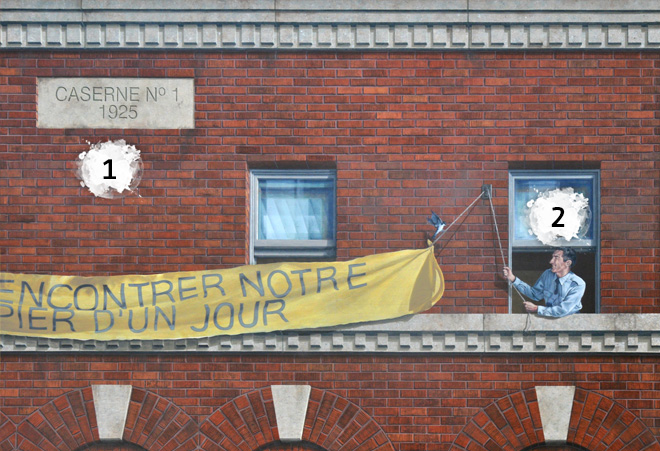 1
Fire Station at 424 Marquette St.
Built in 1925, demolished on December 15th, 1989; modern-day site of the Éva-Senécal library. The station housed a communications centre, an administrative office, a prevention office, a training centre, a mechanics' shop and a fire hydrant workshop.
Seen up high, putting up the "Firefighter for a Day" banner. In 2001, he published Les pompiers de Sherbrooke : à votre service depuis 1852. He passed away in 2003 at the age of 74.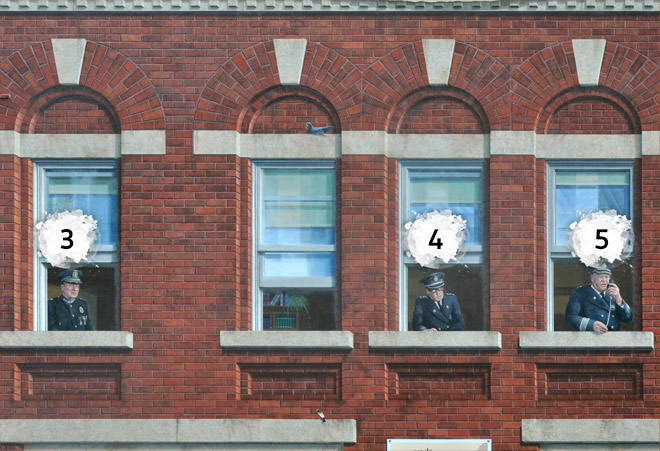 Born in Sherbrooke in 1910, Édouard Moreau was hired by the police in 1938 and patrolled downtown Sherbrooke by foot. He became police captain and traffic controller in 1944. The City of Sherbrooke separated police and fire services the same year, after which Édouard Moreau was appointed head of police services.
Joined the Sherbrooke police in February of 1933; appointed deputy chief on September 28th, 1959. On November 6th, 1967, he earned the privilege of wearing the white hat. He was director of fire services up until 1975.
Officially became a police officer and firefighter as soon as he reached the required age. He worked for a total of 55 years, from his first fire at 16 until his retirement as head of fire services. This included 32 years as a police officer and firefighter, and 23 as head of fire services in Sherbrooke.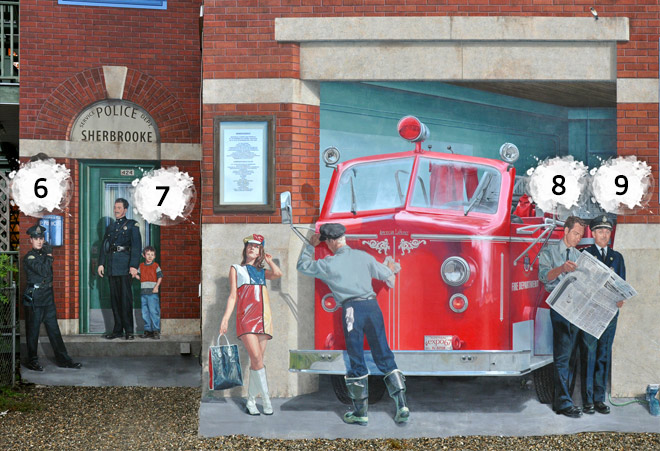 Born in 1940, Jean-Guy Dusseault began working for the police in 1960 and was sworn in during April of the same year. He underwent weapons training with the F.B.I. and worked as a guard before becoming a patrol officer, spending the last five years of his career at the police services reception desk (1997).
Born in Sherbrooke in 1924, Mr. Houle was hired as a constable in 1946. From 1949–1959, he was a motorcycle policeman. He was one of the founders of Sherbrooke police officers' association and promoted director of Sherbrooke police services in 1982.
Gérard Boudreau became fire lieutenant in 1971, captain in 1980, and chief of operations in 1986. He was a member of the fire station relocation committee from 1986–1989, and secretary of the firefighters' association and social committee from 1970–1980. During the 1970s, together with Douglas Jones, he founded the city's disaster victim support service.
In 1940, Théodore Degrâce's dream came true when he joined fire station no. 1. He was a firefighter and police officer until 1944, when he devoted himself entirely to firefighting. He was later lieutenant firefighter (1951–1963), then captain from 1963 until his retirement in 1979.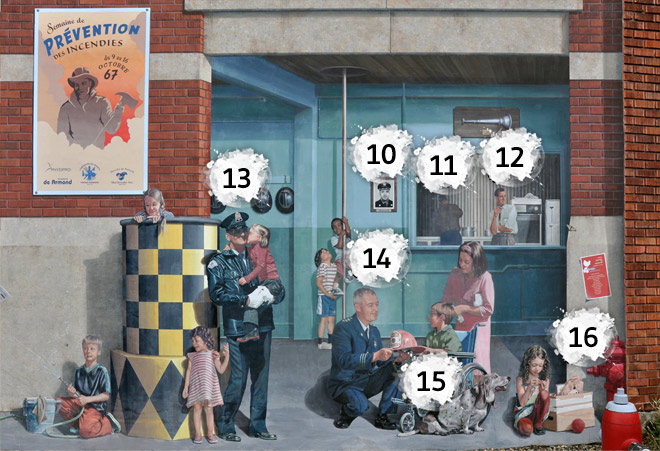 Jacques Denault's picture as firefighter of the month can be seen in a frame at the end of the fire station. Mr. Denault began working for fire services in 1967 and became fire chief in 1985.

In 1992, he started a new service, the SIME or high-altitude operations service, followed in 1994 by the first responders' service which, along with ambulance services, provided the public with greater protection.
Rosaire Lefèbvre worked for the fire station starting in 1949 and became communications operator in 1967. He set up a physical training program for firefighters that could be considered a forerunner of modern physical fitness programs.
Began working for fire services in 1967, and stayed on for 31 years. This firefighter spent most of his career as a fire truck operator.
Bertrand Lacasse worked as a police officer for the City of Sherbrooke for 35 years, 29 of which he spent controlling traffic from a traffic island.

He was awarded the Canadian Centennial Medal at the 100th Canadian confederation anniversary celebration (1967), in recognition of his devotion to his homeland.
This captain known for his efficiency and hard work, and well-respected by his men, can be seen handing the official helmet to the young winner in place of the director, who is busy transferring his powers to his replacement for the day.
15
Firefighter for a Day and His Mother
"Firefighter for a Day" was a very popular local event. The fire chief would hand the helmet to a deserving child, who was then considered the "director" of the day.
16
Firefighters' Toy Collection Campaign
The campaign's origins are shrouded in mystery, a mix of fact and local legend. The event is still held in Sherbrooke every Christmas.