L'hotel des voyageurs - EN
L'Hôtel des voyageurs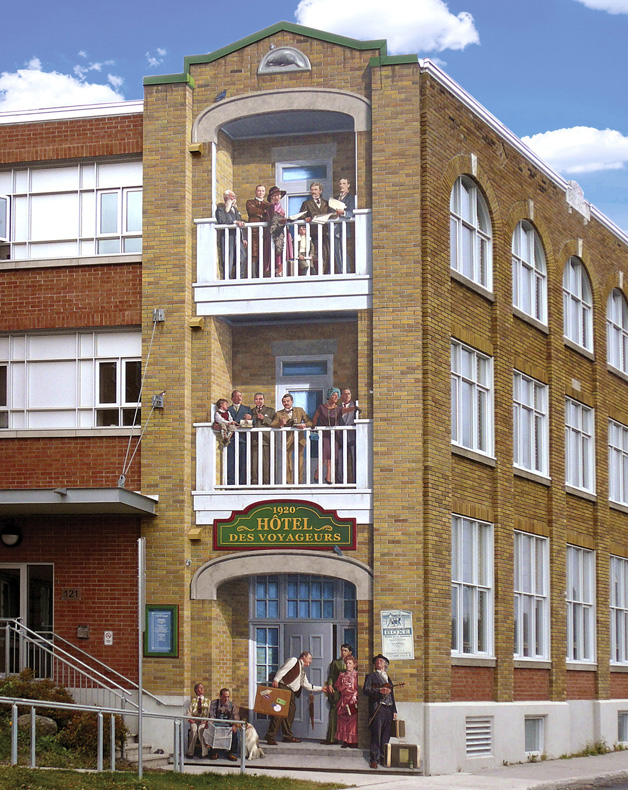 The mural L'hôtel des voyageurs is a tip of the hat to Sherbrooke's former hotel district, a part of the city that saw many hotels spring up over the years. The city's first train station was built in 1952 facing the modern-day station.
The Hôtel de Voyageurs, symbolically illustrated in the mural, also once existed. This modest hotel, built circa 1910 on Dépôt St., often welcomed one-night guests waiting for their train connections. The owner was a French-Canadian, and this was one of the few hotels in the city to bear a French name. In the mural, we can also see old-time downtown merchants from across the decades, awaiting the arrival by train of their local boxing champion Léonard Dumoulin, alias Jack Renault.
Dimensions :
15 by 41 feet
Year created :
2008
the mural in more detail...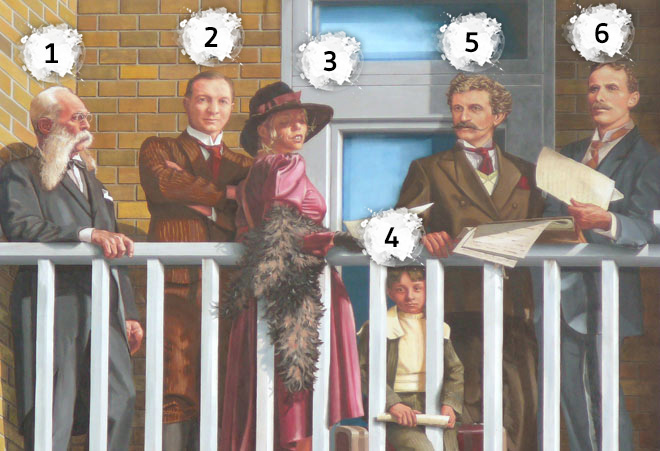 (1835-1926).
Wholesale dealer and owner of vast grain, food and supply warehouses. Genest was also president of the Société St-Vincent-de-Paul for many years.
(1876-1958).
Studied law at several universities before practising in the Sherbrooke area. Nicol held a number of noteworthy positions, including Crown Attorney and President of the Bar for the Saint-François district. He also owned the Sherbrooke daily newspaper
La Tribune
(1910–1955) and Sherbrooke's local radio station, CHLT Radio.
A woman (extra) with sheet music in hand, taking advantage of Mr. Wilson's presence to do an audition.
(1899–1956) Son of Arthur Chevalier
Studied at the Séminaire Saint-Charles-Borromée de Sherbrooke. Became president and manager of J.-L. Mathieu Limitée, founded in 1887. The first commander of the Fusiliers de Sherbrooke, from 1934 up to January of 1937.
(1848-1918).
Co-founded the region's first French-language newspaper
, Le Pionnier
, with Hubert C. Cabana. Became Sherbrooke's 20th mayor in 1895.
(1858-1928).
Worked for his father Hiram C. Wilson, who had opened a piano and music accessory shop on Wellington St. North in 1863. Wilson was a municipal councillor from 1901–1903. The store C. Wilson and Sons Ltd. remained open until 1994, at the same location, under the name Wilson musique (Sherbrooke) inc.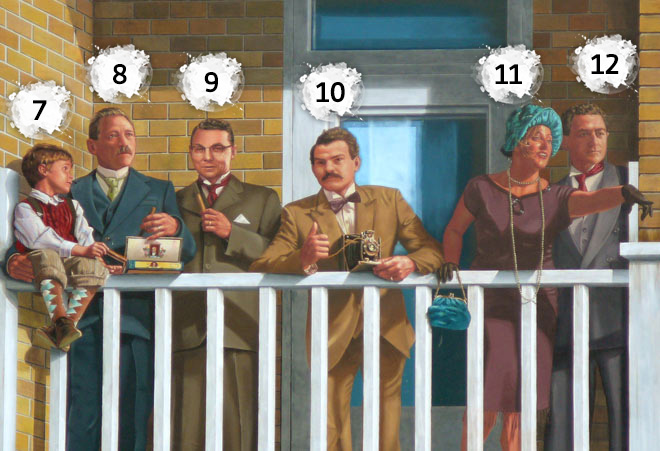 A little boy (extra) sneaking a cigar from Mr. Webster's box.
(1850-1940).
In 1885, together with Charles H. Nutter, Mr. Webster purchased the Sherbrooke Cigar Factory, later renamed the Queen Cigar Factory. In 1892, he would go on to become sole founder of the W. R. Webster and Company Limited, which, in 1902, would produce nearly 4 million cigars. In 1908, Webster had a very modern cigar factory built, boasting 135 employees. The factory was one of Canada's largest.
(1916-1963).
Jean-Paul Perrault acquired Francis Costanzo's jewelry store, "Racine," in 1936. In September of 1938, Mr. Perrault continued the business under his own name. His success brought him many appointments and duties in the social sphere. He was one of the founders of the Club social de Sherbrooke and president of the Club nautique du Petit Lac Magog. In 1958, Mr. Perrault became national director of the Canadian Jewellers Association.
10
Alfred-Zénon Pinsonneault
(1872-1951).
Worked as a photographer circa 1896. Pinsonneault opened his first studio in Sherbrooke in 1901. He and his two brothers founded the Pinsonneault Frères publishing house, becoming self-styled postcard makers. Just a few years later, in 1904, the three brothers had carved out their place in the market, immortalizing landscapes and scenes of everyday life. Today many view them as the masters of the typical Quebec postcard.
A woman pointing at the arrival of the train carrying the celebrated boxer.
(1860-1940).
In 1876, Louis Joseph Codère joined the Codère ironworks and hardware store on Wellington St. North, which had been founded by his father François in 1874. After the founder's death in 1899, his two sons continued the business under the name Codère et Fils Inc. up until 1908.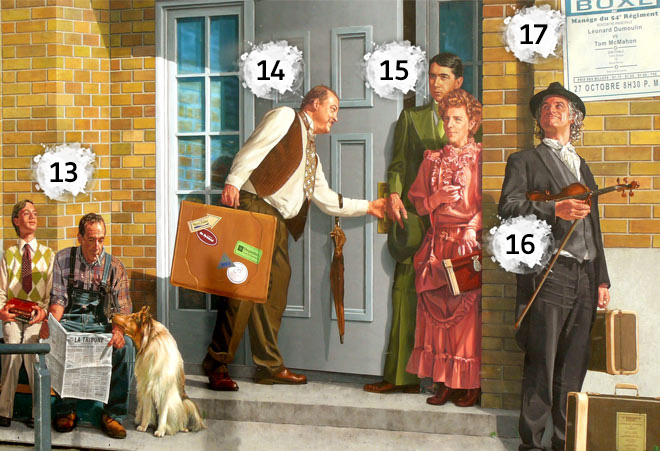 A young man sitting by his father (and his dog), both saddened by the departure of the other son, who is leaving to study abroad. (tribute to Norman Rockwell)
No self-respecting hotel would be complete without a doorman (extra) to greet arriving guests.
(1881-1935)
Léon Rodolphe Langis is seen with his wife Jessie Langis. L.R. Langis was a native of Sherbrooke who completed his business studies at the Séminaire Saint-Charles-Borromée de Sherbrooke in 1897. Langis started out in business working for J.S. Mitchell ironworks, followed by the J.L. Mathieu pharmacy, and finally Codère et Fils ironworks and hardware, as vice president. He became city councillor for the downtoon neighbourhood in January of 1921. He would also become chair of the roadwork committee and of the finance committee.
Our local musician (extra) with his violin, ready to greet the boxer with a song.
Boxing poster / Léonard Dumoulin, a.k.a. "Jack Renault" (1895–1967).
This native of Notre-Dame-des-Bois (Schesham) started boxing while in the Montreal Police. He launched his professional boxing career in 1918.

In 1920 he fought a few matches in Sherbrooke, including the one advertised on the poster for October 27th, 1920—in which he would knock out Tom McMahon. His career culminated in 1921 when he became the training partner of weightlifting World Champion Jack Dempsey. His winning streak between 1922 and 1924 made him one of the top three contenders for the world title.

In 1927, he starred in Knockout Reilly, a feature Hollywood film, as a fearsome boxer. He continued fighting into the 1930s.