On se fait du cinéma - EN
Movie Time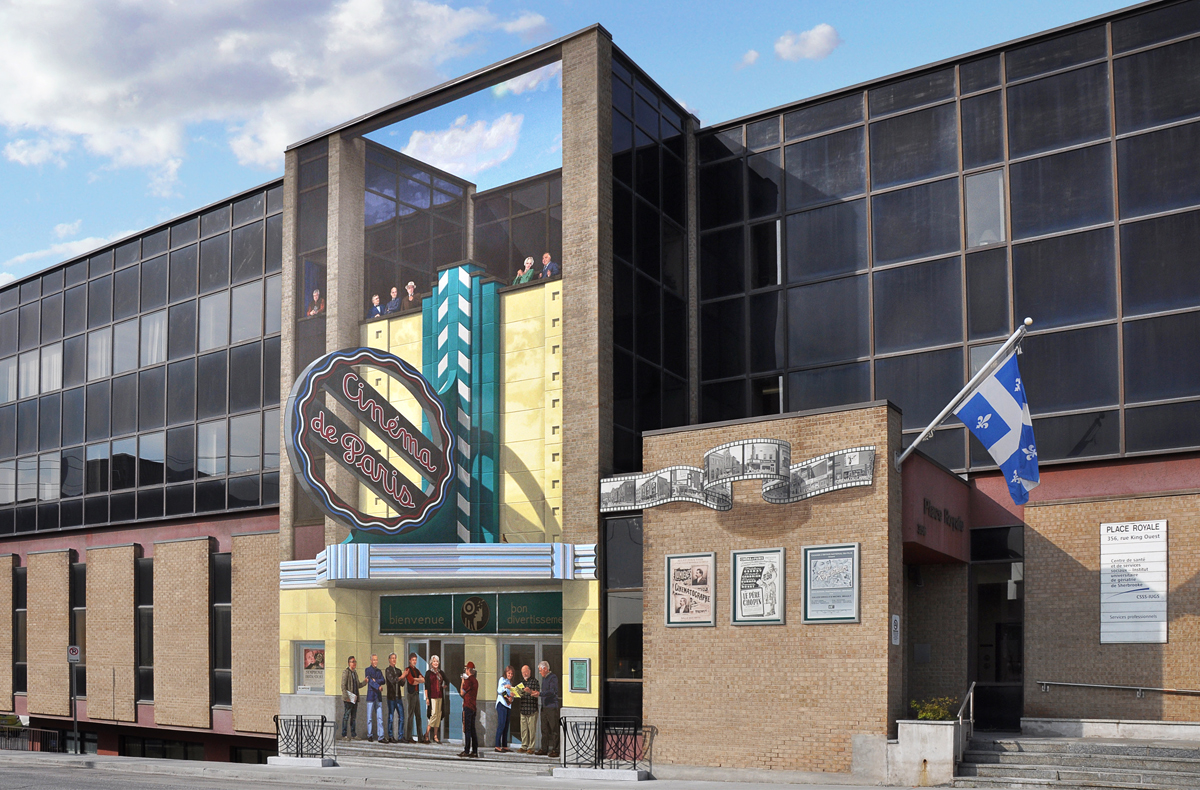 This mural illustrates the history of cinema in Sherbrooke. It spotlights several builders, promoters and creators, both in front of and behind the screen. The people of Sherbrooke have enjoyed a number of different film and projection venues since 1896. Thanks to its excellent rail connection to the United States, the city has been able to welcome many mobile projectionists, including an agent of the Lumière brothers. This mural is primarily intended to be viewed from an angle. The Cinéma de Paris poster was created as an anamorphic image, i.e., a carefully calculated visual distortion which, viewed from a specific point (corner of King and Camirand), creates an effect of relief. Location: 356 King St. West, Sherbrooke
Dimensions :
1,182 square feet
Year created:
2017
the mural in more detail...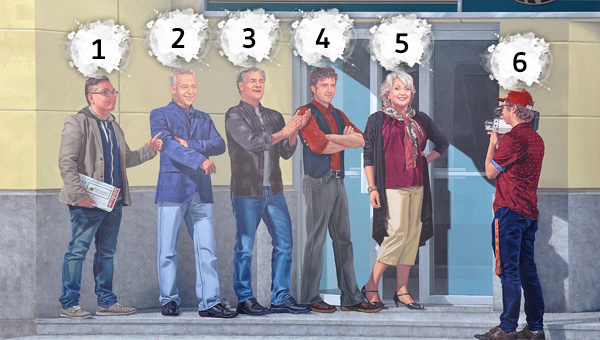 Anh Minh Truong: a fiction filmmaker and director of advertising and video clips for TV and the internet. He is also a video designer in the performance and theatrical domains.

His work has earned him some 30 awards and distinctions (Short Film Corner Cannes, Worldfest Houston, and Promax/BDA Awards). Already, his films have been featured by nearly 80 film festivals and TV channels in several countries. In Quebec, he has also distinguished himself by his stint on the Télé-Québec show Fais ça court in 2007. It took him four years to create the ambitious Après la peine. He is currently devoting his efforts to feature films.
Guy Jodoin: (born in 1966 in Sherbrooke) always seemed to be fated for a career in music. From the age of six, he played piano, alto saxophone and violin. But the music camps he attended gave him a taste for theatre. He went on to complete acting studies and made his theatre debut in 1986, subsequently appearing in more than 30 plays.

He also left his mark on youth television with "Télé-Pirate" and "Dans une galaxie près de chez vous," but also in the worlds of film, radio and improvisation. He has directed a variety of performances, in addition to being the much-loved host of "Sucré salé," "Les auditions Star Académie" and "Le tricheur."
Bernard Fortin: (born in 1957 in Baie-Comeau) is an actor trained at the Conservatoire d'art dramatique de Montréal. He spent a good portion of his youth in Sherbrooke and studied at the Montcalm school, among others.

He has appeared in many Quebec TV series. He has also dubbed characters in many films and animated series, including Star Wars and the Quebec version of "The Simpsons." He is additionally known as the Quebec voice of Tom Hanks. For many years, he was the spokesperson for the Harvey's restaurant chain. He was also renowned as the CKOI 96.9 co-host for "Le retour de Patrice & Bernard."
Maxim Gaudette: (born in 1974 in Sherbrooke) is a Quebec actor. He went to high school at Sherbrooke's Le Triolet before completing studies at the Conservatoire d'art dramatique de Montréal, class of 1997.

He became known to the public as Éric Pouliot in the daily TV show "Virginie." Many other roles soon followed, including in Les 3 P'tits cochons, "Fortier," "Lance et Compte," "L'Auberge du chien noir," Incendies and "Les Rescapés." In 2010, he won a Jutra Award and a Genie Award for best supporting actor in Polytechnique.
France Castel: (born in 1944 in Sherbrooke) is a singer, actress, and Quebec radio and TV host. She started singing from early childhood and soon gravitated toward the performance arts. In 1972, she released a first LP that proved a hit in Quebec.

In 1979, she decided to try acting and played in multiple series in addition to appearing in many TV shows. She has also played in many films, and received nominations at the 1997 Genie Awards and at the 2001 Jutra Awards as best supporting actress. She is a jack of all trades, by her own admission, and pulls it off with brio.
Francis Veilleux, intern cameraman for MURIRS, a student at Cégep de Jonquière.
Malika Bajjaje: (born in Morocco, established in Sherbrooke since 1998) is the executive director of the Festival cinéma du monde de Sherbrooke, which she started up and cofounded together with Denis Hurtubise (president of La Maison du Cinéma). The festival treats moviegoers to some 100 quality films from Quebec and beyond (feature and short; fiction as well as documentaries). In June of 2016, Malika Bajjaje was awarded the medal of the Quebec National Assembly for her achievements, which are always focused on innovation and laying down bridges between cultures.
Jacques Foisy: Converted the premises at the foot of the hill on Sherbrooke's King St. into La Maison du Cinéma in 1985. Previously, this was the location of Cinéma Premier, a multiplex theatre with two screening rooms. Jacques Foisy realized his dream by buying the space, putting the chairs of closing competitors into storage, and acquiring the premises of the neighbours, who were leaving the area. Foisy created Quebec's largest independent movie theatre. In doing so, he became a central player in the revitalization of Sherbrooke's downtown. His efforts paid off, providing the public with access to the largest selection of Quebec, French and classic films within the same film complex. The Maison du Cinéma was sold to La Famille Hurtubise in 2011.
Serge Malouin: collaborated with Université de Sherbrooke professor emeritus Antoine Sirois in writing the book Sherbrooke, ville de cinéma 1896-2002. Mr. Malouin taught at the Collège de Sherbrooke since the institution's beginnings, and retired in 2001. He published several articles on regional theatre, and his master's thesis entitled Histoire du théâtre Sherbrooke 1940-1968, De la fragilité à la permanence with the Éditions de l'Université de Sherbrooke and Éditions GGC, in 1994. He also co-authored several textbooks with Michel Gosselin. A computing enthusiast, he initially participated in Sherbrooke, ville de cinéma 1896-2002 for the technological dimension, before embarking on writing projects.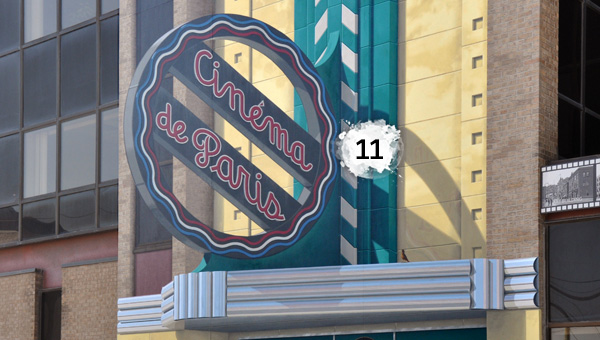 Claude Choquette: (1937-2017), founded the "arts and communication" program option at Sherbrooke's Montcalm school, where he taught for many years and was much appreciated by his students. The "art, communication and technology" study option has been part of Montcalm's offerings for more than 45 years. Even if new technologies and ways of doing things have been introduced over time, the program's fundamental instructional approach remains unchanged. Students in the program are introduced to photography, video and animation so they can learn to create images, but also develop creative approaches, whether autonomously or in groups, depending on the course.
(1913 – 1988)
Le Cinéma de Paris. This theatre stands where another theatre once stood: the Passe-Temps, created in 1913. Renamed the Princess in 1916, then the Victoria in 1924 and finally the Cinéma de Paris in 1934, before being completely demolished in 1947. The grand opening of the all-new Cinéma de Paris took place in January of 1948. It would close on July 20th, 1987 and be taken down in March 1988. It was located opposite the modern-day town hall, at 372 King St. West.
Pauline Garon, (born in Montreal in 1901 – deceased in 1960) was the youngest of 11 children. She studied at the prestigious Sacré-Cœur convent in Montreal (Congrégation Notre-Dame) where she learned singing and music. At the age of 19, she left Montreal to play on Broadway, and was met with acclaim. She played in some 40 movies, including 20 or so in the lead role. During the 1930s, she appeared in some 30 films. With the advent of sound films, she was able to showcase her talent in French and in English, and played in three French-language films shot in Hollywood. She returned to Montreal and Sherbrooke to show her films.
Harry Saltzman : (Born in Sherbrooke in 1915 – deceased in 1994) was a Canadian producer and scriptwriter. After the war, he began a career in film and soon carved out a place for himself. In early 1961, he became the first producer to hold the adaptation rights to a Fleming novel, for a six-month period. But a number of obstacles got in the way, and at the five-month mark, nothing had been started yet. This is when he crossed paths with Albert R. Broccoli, another Bond fan. The two formed a solid team with complementary expertise. Thanks to this synergy, they produced the first nine Bond films, from Dr. No (1962) to The Man with the Golden Gun (1974).
Fred Mayo Clement : (Born in the United States) was able to draw on his financial resources, political experience and theatre skills to succeed where local politicians and businessmen had not. In 1901, he built a 700-place performance venue, the Théâtre Clément de Sherbrooke, which, for a time, was the second largest performance hall in Canada. Théâtre Clément welcomed a variety of performance types (comedy, vaudeville, opera and classical theatre). The many distinguished actors to grace the theatre included Sarah Bernhardt.
Rodolphe Vallée : became established in Sherbrooke in 1914 and took up management of four theatres, which together formed one of the largest theatre chains in the province of Quebec. In addition to managing these four Sherbrooke theatres, he directed the orchestra during silent film screenings and was the impresario for the vaudeville artists who played there. Rodolphe Vallée also innovated by regularly showing educational films primarily addressed to children. The films were mainly focused on discovering various regions of Canada.
Mack Sennett : (born in 1880 in Danville, baptized in Richmond, deceased in 1960), real name Michael Sinnott. Swiftly migrated to New York to become a cabaret singer. Left the scene to become an actor and author. In 1912, Sennett created his own film studio, Keystone. In addition to directing more than 1,000 films, Mack Sennett brought Charlie Chaplin to audiences across the world. He still returned to the Cinéma Premier from time to time to premier his films. Since the theatre used to have a stage, he even brought along his "Bathing Beauties." He retired with the advent of sound films in 1936, and received an Oscar in 1937.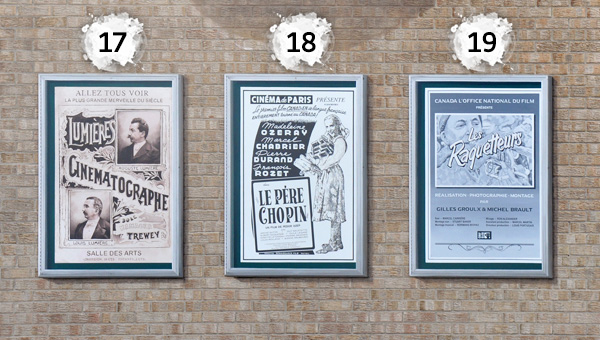 Brothers Auguste and Louis Lumière were French engineers and industrialists who played a key role in the history of film and photography. Contrary to the popular perception, the Lumière brothers did not introduce the first motion pictures, but rather the first collective big-screen viewings of photographic films for the public. The first film shot by Louis Lumière in March of 1895 was Sortie d'usine, better known today as La Sortie de l'usine Lumière à Lyon (English version: Workers Leaving the Lumière Factory).

Six months after it was screened in France in December 1895, Louis Minier and Louis Pupier organized the first film screening in America with the Lumière Cinematograph, in Montreal. Indeed, the first Lumière Cinematograph projection in America took place in Montreal, Quebec.

Sherbrooke's population numbered only 10,000 at the time, but the city was well situated thanks to the railway connection to the United States, and soon attracted the Lumière brothers' agents. The first fiction photographic film, L 'Arroseur arrosé (The Sprinkler Sprinkled) directed by Louis Lumière in September of 1895, met the modern-day definition of cinema.
One of the first Quebec films and one of the first French-language Canadian films shot entirely in Canada. A film from Fedor Ozep, shown at the Cinéma de Paris (La Tribune dated May 26th, 1945). With Madeleine Ozeray (Madeleine Dupont), Marcel Chabrier (Paul Dupont, Le Père Chopin), Pierre Durand (Pierre Dupont), François Rozet (Jacques Dupont) and Janine Sutto (Carmen Dupont)—this was Janine Sutto's screen debut.

Synopsis: A widower, emigrated from France, must support a family of five children. For different reasons and under different circumstances, he and his brother are separated at birth. After living in completely different worlds, the brothers unite, turning his life upside down—and with it, that of his family.

Shooting for the film began on Mount Royal on August 20th, 1944, during a concert with 220 extras. The film was premiered at Montreal's Théâtre Saint-Denis on April 19th, 1945, and is considered the first commercial success of Quebec film.
Les Raquetteurs is a 1958 Quebec documentary directed by Michel Brault and Gilles Groulx.

The film marked a turning point in cinematic history, adopting a "candid eye" approach that put the filmmakers at the heart of the action for the first time in recorded history. The short film is also viewed as an important step in the development of anthropological film, capturing social phenomena without judgment in order to distance the documentary from elements of popular culture. Les Raquetteurs speaks to this question of truth in documentary film.

The film was innovative and significant in that its context of creation laid the groundwork for significant developments in filmmaking around the world.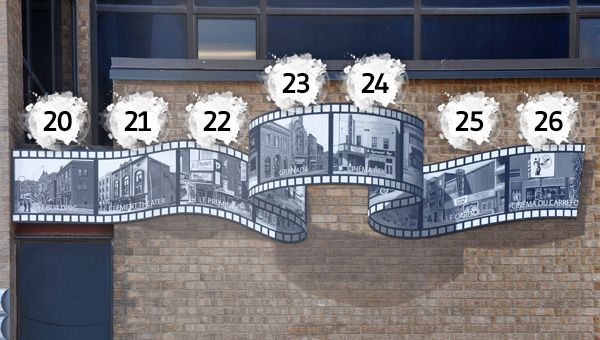 (1896 – 1927)
Arrival and first screening of the Cinematograph in Sherbrooke. Located at 229 Dufferin St.
(1901 – 1939)
Sherbrooke's first theatre, built in 1901 by American contractor F. M. Clement on Wellington St. North. The 1,042-seat venue was initially used for operas and plays. Film projections began in 1903, and the theatre was renamed His Majesty's in 1911. Sarah Bernhardt performed here in 1917. Located at 151 Wellington St. North.
(1910 – 1976)
Le Théâtre Premier was renamed Le Festival in 1976, then Le Capri in 1977 and La Maison du Cinéma in 1985. It is one of Quebec's only independent theatres. Located at 63 King St. West.
(1929-present)
The Théâtre Granada has been declared a Canadian heritage and historical building. It was built according to the plans of Daniel J. Crighton, a Montreal architect of Scottish descent, and its interior décor was designed by Emmanuel Briffa. Today, the Théâtre Granada is Canada's only atmospheric theatre to have preserved its architectural integrity. Located at 53 Wellington St. North.
1947 : Cinéma Rex. (1st neighbourhood theatre) / 1977–1991: Cinéma Belvédère. Building acquired and demolished by the city in 1997 to expand the Parc Alfred-Élie-Dufresne at 525 Galt St. West.
(1949 – 1997)
Le Capitol, built by Émile Elias, was located at 59 King St. East, and taken down in 2008. Today the site is home to the Office d'habitation de Sherbrooke at the corner of Williams-Ives and King St. East.
(1973 – 2000)
Carrefour de l'Estrie
27
La symphonie Fantastique
La symphonie Fantastique : Biography, presented during the January 16th, 1948 opening of the Cinéma de Paris (La Tribune dated January 15th, 1948). Film directed by Christian-Jaque (1942), with Jean-Louis Barrault (Hector Berlioz), Renée Saint-Cyr (Marie Martin) and Jules Berry (Schlesinger).

Synopsis: A significant slice from the romanticized life of Hector Berlioz. Explores the composer's thwarted love life with Marie Martin, who dies while singing one of his ballads, as well as his tumultuous love affair with actress Harriett Smithson, his conflicts with publishers, directors, orchestra conductors, and his apotheosis with the Requiem. The story plays out against the backdrop of the lush romantic era
Lefebvre is holding the newspaper La Tribune, which celebrated its 100-year anniversary in 2010. The newspaper was created by Jacob Nicol, who was born in Roxton Pond and studied law before practising as a lawyer in Sherbrooke. Noticing the growing French-speaking population in Estrie, he decided to found La Tribune de Sherbrooke, which released its first paper on February 21st, 1910. Starting in the fall of 1921, he embarked on a lengthy political career. Even so, Nicol remained very active in the private sphere as the director of several insurance companies and the president of the radio stations CHLN (Trois-Rivières) and CHLT (Sherbrooke). He passed away in Sherbrooke in 1958.