Il était une fois dans l'est - EN
Once Upon a Time in the East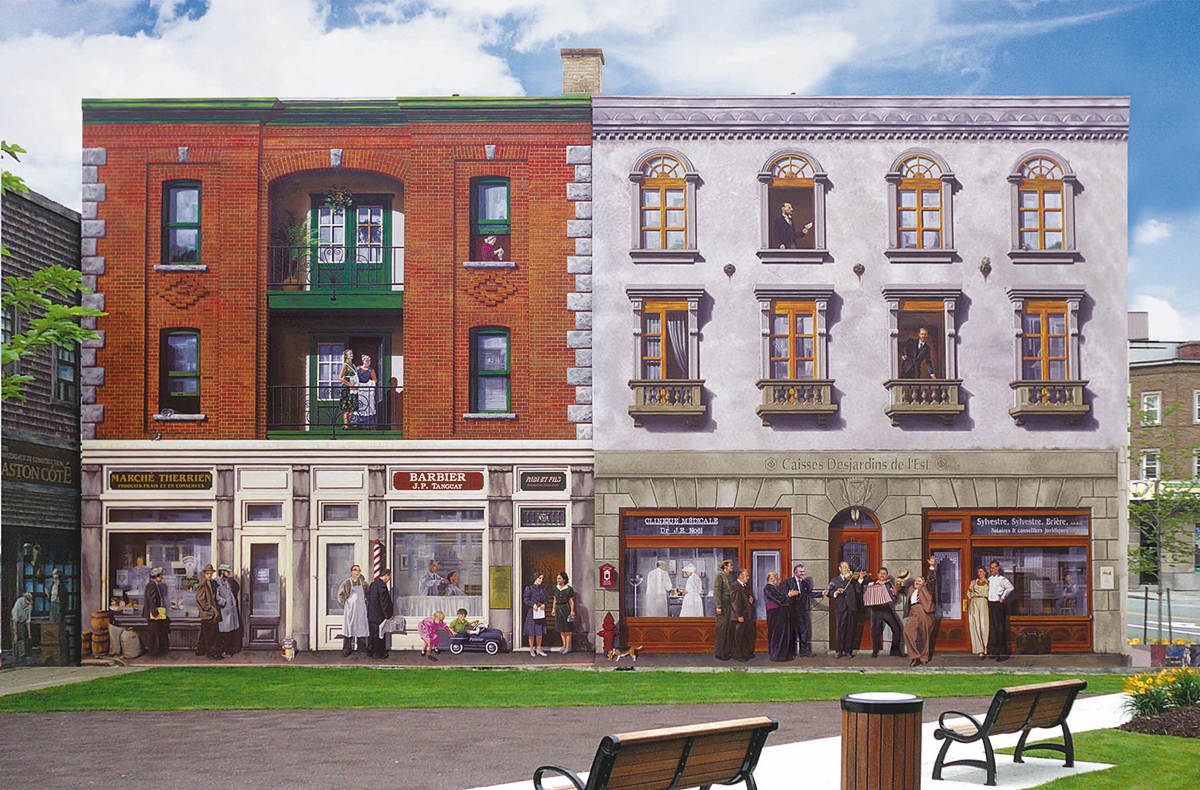 The mural
Once Upon a Time in the East
 depicts everyday life in Sherbrooke's eastern neighbourhood during the 1940s to 1950s. The work pays tribute to the builders of this neighbourhood and spotlights personalities that linger in the city's collective memory, in addition to elements of Sherbrooke's musical and cultural history.
Dimensions :
68 by 37 feet
Year created :
2003
the mural in more detail ...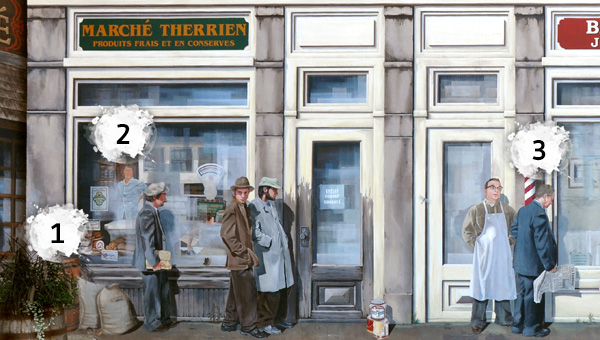 Whether in good times or bad, Sherbrookers never pass by an opportunity for yummy fresh donuts. Perhaps this is what Adjutor Duquette was thinking when he became a pastry cook in 1933.
In 1935, the Marché Therrien opened its doors on King St. East, near Bowen St., thanks to Wilfrid Therrien, who would pass away in 1942. Madame Therrien (born Bernadette Patry) would continue the business for no less than 37 years.
Just outside the barbershop, a poster in the window indicates traces of the June 15th, 1942 flood, when pouring rains came down for some thirty hours. The water level of the river had risen some twenty feet above the norm.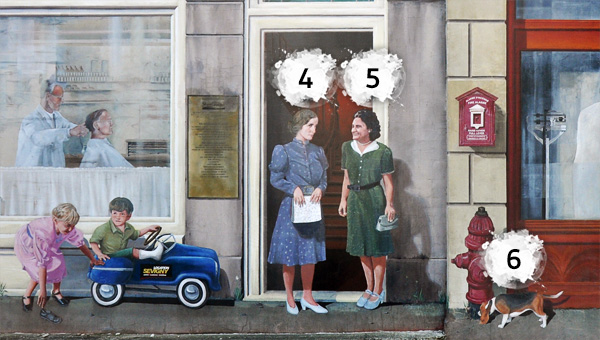 Éva Senécal's novels have left a strong imprint on the literary world. Among other things, Senécal attended Alfred DesRochers' literary gatherings in Sherbrooke. From 1930–1936, she was the journalist and editor for the women's page of the Sherbrooke newspaper La Tribune. She later made her home on Murray St.
5
Marie Addolorata Gentile
Mrs. Antonio Fabi, or Marie Addolorata Gentile, was born in Italy. When she arrived in Canada in 1908, she married Mr. Fabi the same day. They would have 14 children. Mrs. Fabi was instrumental to her husband's business success.

Mr. Antonio Fabi began his career in 1913 in general construction, building roads, bridges, aqueducts, sewers and sidewalks. After his death in 1942, and for 15 years thereafter, his wife took over as company president.
The neighbourhood dog, sniffing around the boîtes à feu or fire hydrants installed as of 1897.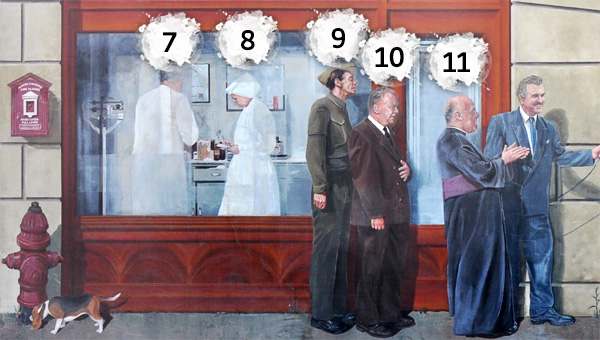 Studied at the Frères du Sacré-Coeur school before completing classical studies at the Séminaire Saint-Charles-Borromée, followed by medical school at Université Laval in Quebec City.
8
Soeur Marguerite de l'Eucharistie
In the early 1920s, Soeur Marguerite de l'Eucharistie (Marie-Anna) was one of the founders of the new hospital on Bowen St., along with Dr. Émile Noël.
Our soldier returns from abroad, having lost a few pounds from a diet of hot beans for breakfast, cold beans for lunch, and sour beans for dinner.
On October 5th, 1943, Sherbrooke's economy was marked by the establishment of the Caisse populaire de Sherbrooke-Est. Notary Georges Sylvestre was the founding chair of the credit union's Board of Directors.
11
Reverend Canon Dolor Raphaël Antoine Biron
Canon Dolor Biron, born in Sherbrooke, was the priest of the Saint-Jean-Baptist church for 30 years. The cofounder of the Eastern Townships Historical Society, he was also at the head of the 51 shareholders who made up the Caisse populaire de Sherbrooke-Est.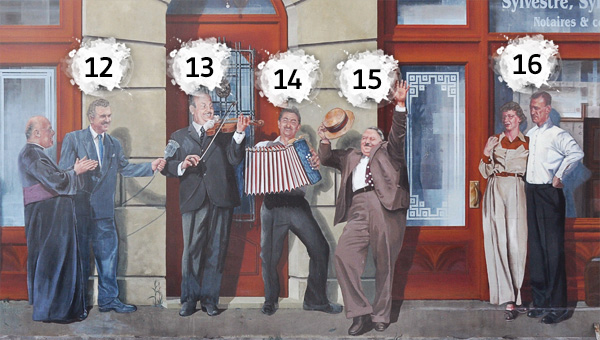 In 1947, Louis Bilodeau worked for CHLT Radio. In 1956, he permanently moved back to Sherbrooke and became chief presenter for the anticipated TV station; in the meantime, he kept his skills sharp as a radio host.

The folklorist hosted Soirée canadienne, a throwback to old-fashioned soirées of jigs and rigadoons. The show began airing in 1960 on Sherbrooke's CHLT-TV.
At the age of 12, Adalbert Richard, a.k.a. "Ti-Blanc Richard," asked his parents for a violin as a reward for his work on the farm.

In 1937, he was invited to CHLT Radio's "Bonjour Voisin" show, which brought him regional fame. He went on to perform all over Quebec and beyond with his band, "Ti-Blanc Richard et ses Gais Lurons."
The man standing beside "Ti-Blanc" is the Italian-born accordionist Jim Battistini, who is well known across the region and Quebec at large. His countless performances demanded great strength—an accordion like his could weigh 60 pounds!
Artist, painter and lettering artist Antonio Montour worked on and off the stage as an actor, singer, playwright, author, decorator and more. He also built all of Sherbrooke's allegorical parade floats. After studying at the École des beaux-arts du Québec, he opened a sign shop on King St. East, near the Aylmer Bridge.
A young couple newly arrived from the Lower St. Lawrence area and hoping to find work, found a home, and raise a family.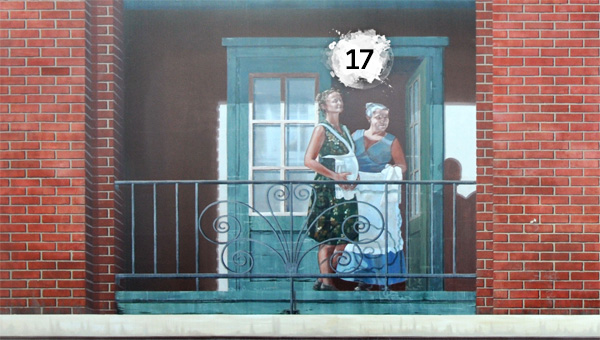 17
Daughter, Mother or Grandmother
The ladies on the balcony seem to be enjoying some fresh air. The youngest of the widow's ten children is expecting a baby soon. The apartment sure is full! The upstairs neighbour is knitting a tiny sweater for the newborn. What a friendly neighbourhood!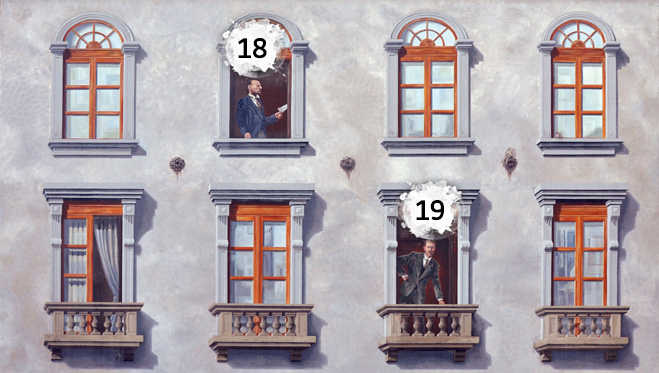 Johnny Bourque was Sherbrooke's 10th MP and belonged to Sherbrooke' Catholic school board. He was also a city councillor. While fulfilling both roles, he also sought a term as MP in the Assemblée législative du Québec.
Léonidas Bachand was a notary in Sherbrooke starting in 1915. He is remembered for his remarkable contribution to the city's social and cultural vitality. Among other things, he founded the Union musicale de la Société d'Enseignement de la Musique in 1921.