CHLT-TV 50 ans à notre image - EN
CHLT-TV 50 Years of Looking at It Our Way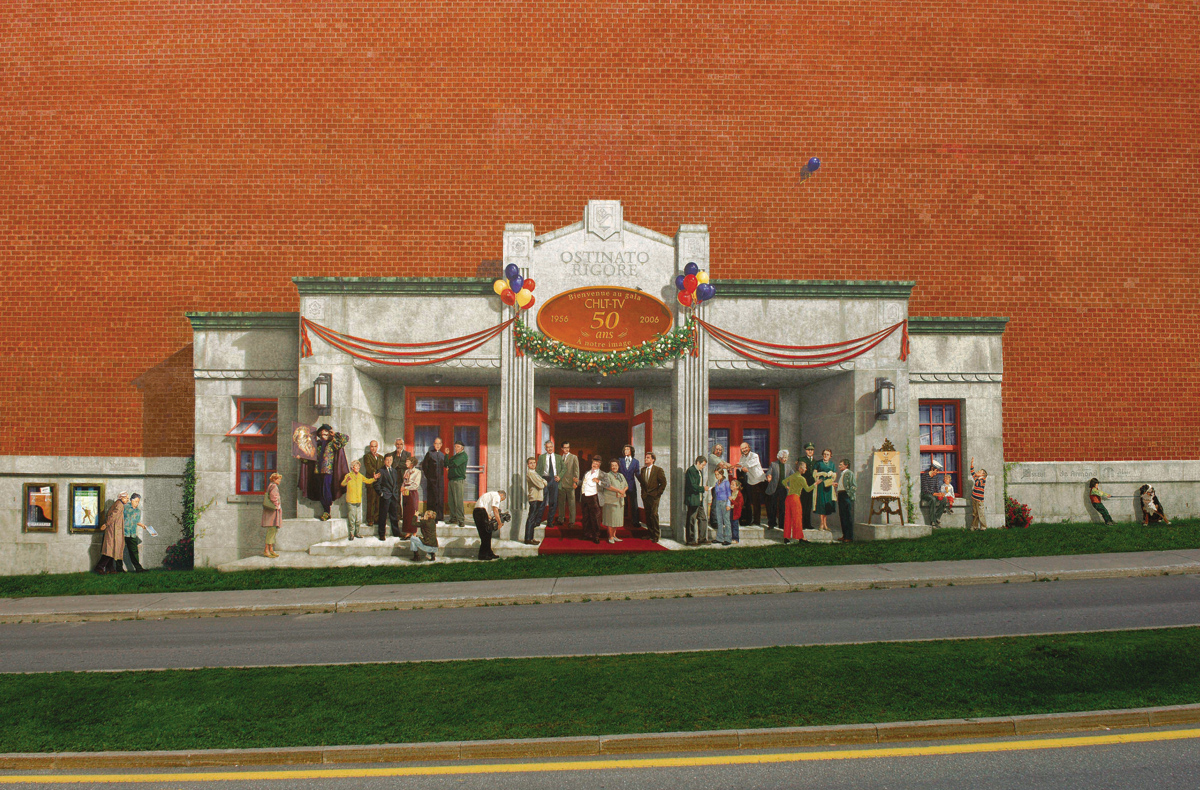 The mural CHLT-TV, 50 Years of Looking at It Our Way celebrates the 50th anniversary of the CHLT-TV (Télé 7) television station, where some 30 characters from the regional cultural milieu have gathered together to celebrate. In addition to notable personalities who worked at CHLT-TV, the mural portrays visual arts, dance and music celebrities from the region. The illustrated personalities distinguished themselves locally, nationally and even internationally.
The building's fictitious entrance where everyone is grouped together is inspired by the art deco-style architecture of the Séminaire de Sherbrooke and the Saint-Charles Auditorium, built by Poulin architects in 1950.
Dimensions :
120 by 35 feet
Year created :
2006
the mural in more detail...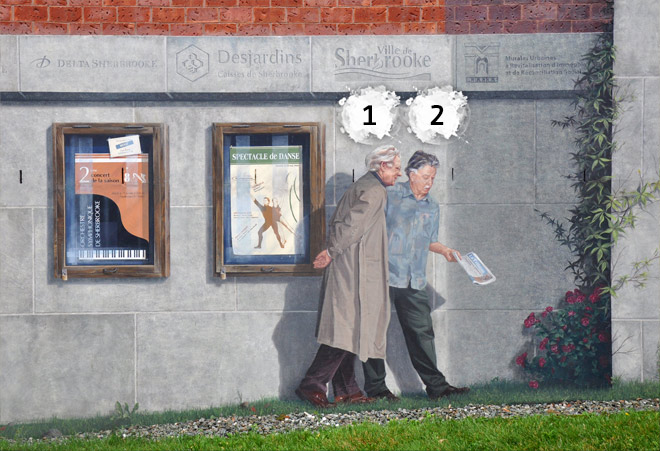 (1912–1991) LITERATURE Born in Sherbrooke, this writer who held a master's degree in English literature from Oxford published over fifty works translated into numerous languages, including The Great Code and The Educated Imagination.
(1930-). ART TRADES Maurice Savoie, a native of Sherbrooke, studied at the École du meuble de Montréal under the masters of ceramics before starting out his career in Sherbrooke in 1951, teaching ceramics in his home city.

He was the recipient of the Saidye-Bronfman Award, the highest award in Canadian fine crafts, and of the Paul-Émile-Borduas Award, the most prestigious arts award granted in Quebec.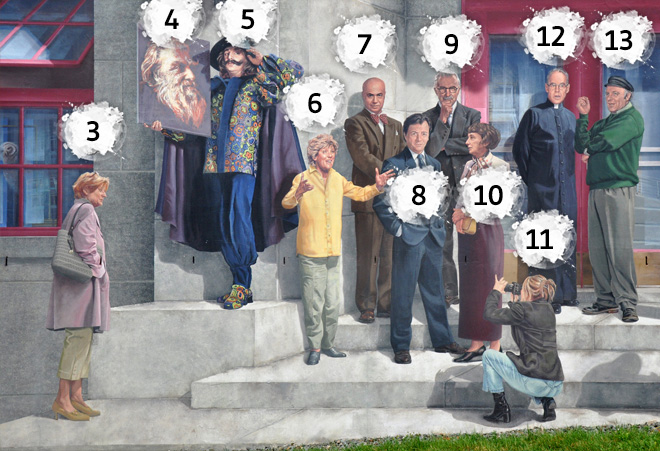 (1935- ) HOSTING
Journalist and radio news broadcaster Aline Desjardins debuted her career at Sherbrooke's radio station, where she worked for six years.
(1901–1978). LITERATURE
Born in Saint-Élie-D'Orford, Alfred DesRochers began working for the newspaper La Tribune in 1925. He was the initiator and host of the Mouvement littéraire des Cantons-de-l'Est.
5
Frédéric (Louis-Gilles Doyon)
This native of Scotstown earned his arts degree from Université Sainte-Anne de Pointe-de-l'Église, Nova Scotia, in 1959.
Born in Sherbrooke. Daughter of the poet Alfred DesRochers. A poet, writer of fables, playwright, author, performer, actress, stand-up comedian, philosopher, and show host.
Born in Mardin, in former Mesopotamia, Georges Nakash came to North America in 1913 and settled in Sherbrooke in 1918. He became the photographer of Sherbrooke's local and regional bourgeoisie.
A public affairs radio and TV host starting in 1974, Jean-Luc Mongrain helmed the weekly show "l'Heure Juste" on Sherbrooke's Télé 7 in 1986.
(1881–1971) ARCHITECTURE
Mr. Audet established his office in Sherbrooke. He was the master craftsman behind many religious and other buildings in Quebec and Eastern Canada, including Sherbrooke's cathedral and archdiocese, the Saint-Anne-de-Beaupré basilica, and the cathedrals of Moncton and Bathurst.
11
Sara-Maude Lapalme Lepage
extra
12
Monseigneur Maurice O'Bready
(1901–1970)
Maurice O'Bready attended the Séminaire Saint-Charles and the Grand Séminaire de Montréal. Ordained priest in 1926, he would also become a professor, choir director, editor in chief of the Borroméen, and seminary board member. He was also the first to use the name "Estrie" in reference to the Eastern Townships region.
(1938–2006). THEATRE
Founded the theatre troupe L'Atelier in 1960 with three other students and Sherbrooke seminary professor and stage director Roger Thibault. Gobeil went on to play many TV and movie roles.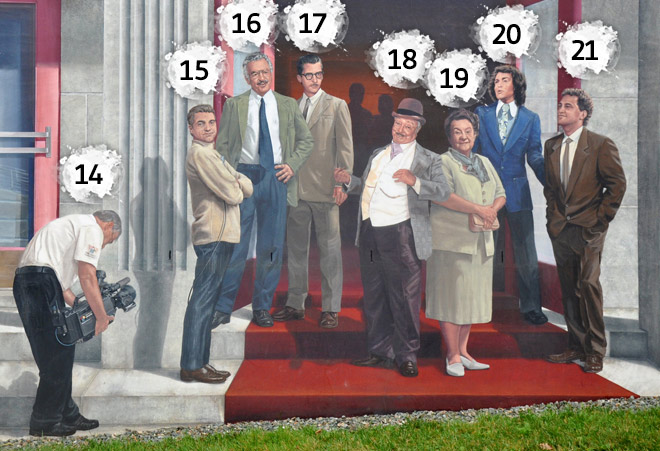 CHLT-TV
Began his career with TVA Télé 7 in 1964. Even after 42 years of service, he continued to be driven by his passion for quality reporting.
Jacques Tremblay was one of the most popular presenters at Télé 7 for more than 20 years.
CHLT-TV
The year 1960 marked the launch of the TV show "Soirée canadienne" hosted by folklorist Louis Bilodeau, which was even broadcast in the USA by an American TV station—becoming the first French-language and made-in-Quebec show to be watched south of the border.
Started working at CHLT-AM, CHLT-FM, and CHLT-TV in 1960. Bilodeau specialized as a sports journalist and even became a hockey commentator.
Started off as a singer at the Variétés Lyriques before becoming a host at Sherbrooke's radio station. Played Théodore Bouchonneau, or "Todore," in "Les belles histoires des pays d'en haut" (1956–1970).
(1902–1986) LITERATURE
Quebec journalist, host and author. Founded the magazine Paysana (1938) for women in rural areas. Member of the Ordre national du Québec.
CHLT-TV
Became Vice President of Operations at CHLT-TV in 1983, then Executive Vice President and Vice President, Programming and Promotion, before becoming President and CEO of the Pathonic network.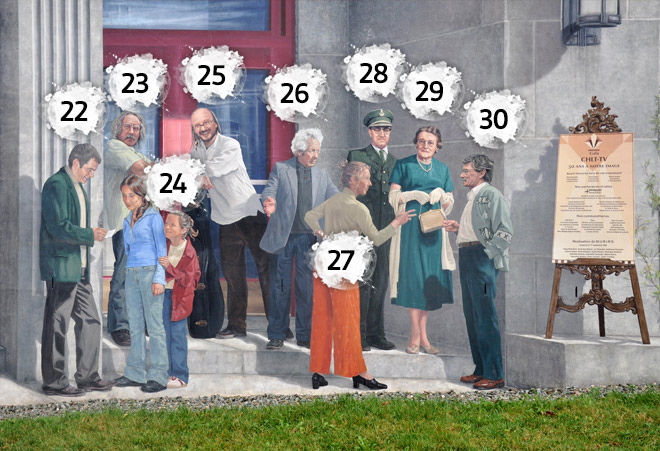 (Pierre Garand)
(1972-) MUSIC
Born in Sherbrooke. Starting when he was 18, Garou performed "Les dimanches à Garou" for the Belles Soirées du Liquor Store for four years. His unique style caught the attention of Luc Plamondon, and Garou later featured in the album Notre-Dame de Paris. In the fall of 1999, he was named Révélation de l'année at the 21st Gala de l'ADISQ. The same year, he met René Angélil (Céline Dion's manager), who convinced Sony Music of his potential.
(1944-) SCULPTURE
Grew up in Sherbrooke. Earned a B.A. from Université de Sherbrooke in 1968. Also a graduate of the École des beaux-arts de Montréal and of UQAM. Became a professor, first at the University of Ottawa, then at UQAM. Recipient of the Borduas Award (1990), the highest distinction, in the arts, awarded by the government of Quebec.
(1949-) MUSIC
Born in Sherbrooke. Singer, songwriter and guitarist. Studied at the Boston Seminary and at Bishop's University in Lennoxville, Quebec.

At the age of 21, he chose to abandon his religious vocation to pursue a career singing in French. Riding the wave of early 1970s traditional singing, he partnered up with Bertrand Gosselin to create the folk duo "Jim et Bertrand."
(1917–1988). THEATRE Learned the ropes in the amateur theatre troupe "Les Compagnons de Notre-Dame de Sherbrooke." Founded the amateur troupe "Union Théâtrale" with Louis-Paul Gauvin in 1946. The troupe was a training ground for a number of young actors, including Jean Besré.
In 1987, became the artistic director of the Sursaut Company founded in 1985. Dancer and choreographer. Recipient of the Prix de la création artistique en région 2005-2006, granted by the Conseil des arts et lettres du Québec.
Studied music in Quebec, the USA and France (Paris) with the renowned modern composer Messiaen. Co-founder of the Orchestre symphonique de Sherbrooke, which he directed for 30 years.
29
Joséphine Doherty Codère
(1875–1954). MUSIC
Studied music in Sherbrooke (Mont Notre-Dame) and in Montreal. Pianist, organist and composer. Piano teacher. President of the Union musicale de Sherbrooke from 1924–1954. Mother of 12 children.
(1932-) PAINTING
Born in Montreal. Graduated from the École des beaux-arts de Montréal in 1960. Came to Sherbrooke the same year, and was hired to teach art history at Université de Sherbrooke. One of the initiators of the university's art gallery in 1964. Father of 12 children.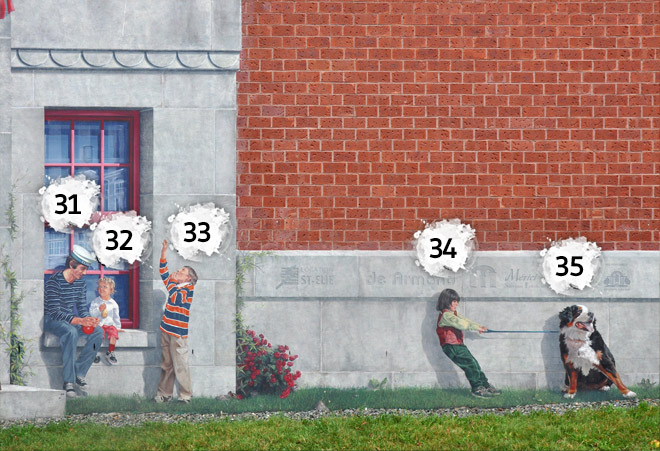 Began working for CHLT-TV in 1966, joining the then-team of hosts. Played "Tonton Bonbon" in the show "Le Cirque à Tonton" for almost 10 years. "Ti-Bob" De Courcel worked as an interviewer, columnist and broadcaster, in addition to being a public relations officer for the Fondation du CHUS. In 2009 he was awarded the Françoise-Gaudet-Smet journalism prize by the Société Saint-Jean-Baptiste de Sherbrooke.
33
Étienne Huckel Marchand
Extra
Extra and son of Bertrand Gosselin.